Auxiliaries for oil mill plant
Bottle blowing machine
Bottle blowing machine is a device for blowing and making bottles, which is widely used in different industries. In edible oil production plant, the bottle blowing machine is used to blow and make bottles which will be used to fill edible oil.
The main parts of bottle blowing machine
A complete set of bottle blowing machine consists of a bottle blowing system, a preform mold, a bottle blowing mold, a bottle cap mold and other auxiliary equipment.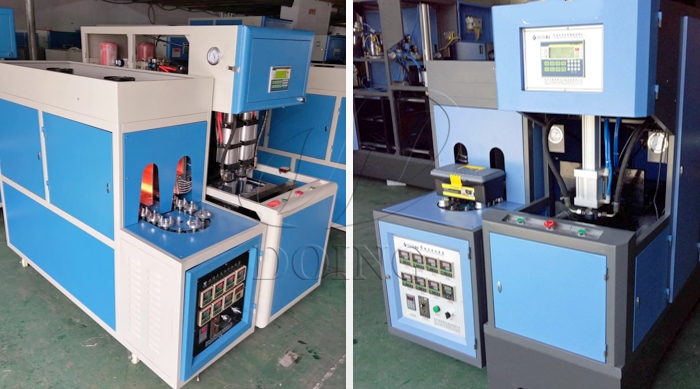 Bottle blowing machine in DOING factory
The types of bottle blowing machine
According to the continuity of the blowing process, the bottle blowing machine can be divided into fully automatic bottle blowing machine and semi-automatic bottle blowing machine. They have different characteristics.
The production process of the fully automatic bottle blowing machine is completed automatically, which greatly reduces power consumption and manpower. However, the semi-automatic bottle blowing machine can adjust the operation of each step to meet the different needs of customers.
How to operate bottle blowing machine?
1.Pre-heated the preform
Irradiate the preform with an infrared high temperature lamp to soften the preform. In order to maintain the shape of the bottle mouth, the preform mouth does not need to be heated, and it needs to be cooled by a cooling device at the same time.
2.Blow molding
The pre-heated preform is placed in a prepared blow mold, and the high-pressure inflation is carried out to blow the preform into a required bottle type.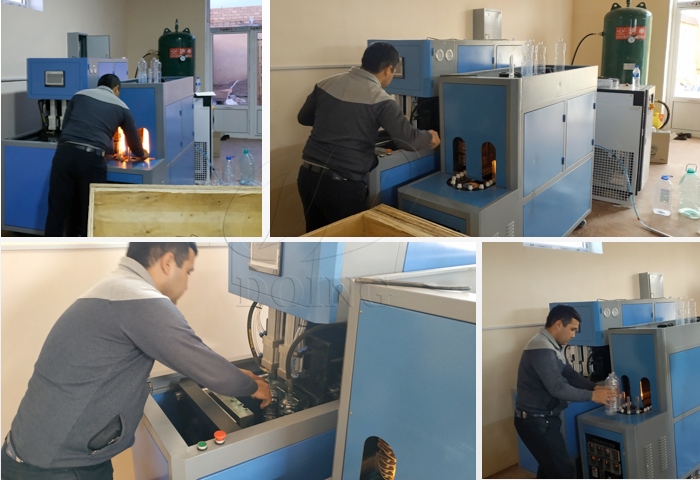 The bottle blowing machine installed in Uzbekistan sunflower oil processing project
The features of bottle blowing machine
1. High efficiency of bottle blowing process and high accuracy of bottle forming.
2. Simple and convenient blowing operation, equipped with an intelligent early warning system to ensure the safety of the production process.
3. Stable performance and long service life.
4. Energy-saving design and low energy consumption.
Bottle blowing machine can be used for bottle blowing with different volumes and different styles. If you need bottle blowing machine, please contact us. Besides, I must remind you that in order to make the bottle meet your requirements, we need you to mail the preforms and bottle caps, and also understand the volume and pattern of the required bottles, as well as the daily output. The reason why need these data is to make the bottle better and to satisfy your requirement. Looking forward to cooperating with you!

PREV:Edible oil storage tank

NEXT:Nothing
Leave a message
If you wanna to get more details about Bottle blowing machine, you can send E-mail to sales@doingoilmachine.com. Or you can consult our professional engineers and specialized sales team by leaving a message in below form. We will contact you ASAP. You also can visit our factory in Henan, China.