What are the advantages to purchase cooking oil refinery machines from China?
In the last decade, the economy and technology of China have been developing rapidly. The cooking oil refining technology is no exception. With the development of the international trade, more and more customers choose to purchase cooking oil refinery machines from China. What advantages are there?
1. Mature cooking oil refining technology and rich installation experience

Cooking oil refinery machine can be used to refine many kinds of crude oil
Firstly, the cooking oil refining technology researched by Chinese suppliers not only suits common cooking oil in China, but also can be used to refine crude oil that extracted from tropical oil seeds, such as palm oil or palm kernel oil, coconut oil, etc. Like our company -- Henan Doing Company, we have installed many cooking oil refinery projects in different countries and regions, like the 1tpd crude cotton seed oil refinery plant in Uganda, 5tpd crude palm oil refinery plant in Indonesia, 20tpd crude olive oil refinery plant in Peru, and 100tpd crude palm oil refinery and fractionation plant in Kenya... So we have accumulated rich installation experience of cooking oil refinery machines.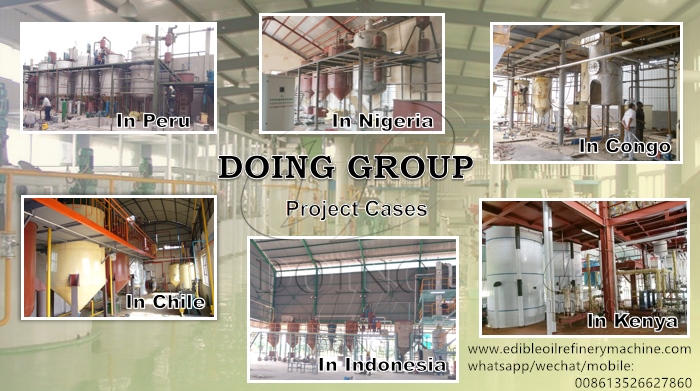 The cooking oil refinery projects of Henan Doing Company
2. Mature engineers team and best after-sale service
Secondly, Chinese manufacturers generally have mature engineers team for designing the cooking oil refinery machines. Like us, we not only have professional engineering team for designing proposal for clients according to the specific requirements, but also have our own factory to manufacture quality machines with favorable price. Besides, we have responsible after-sales team who can ensure machine installation, commissioning and successful running.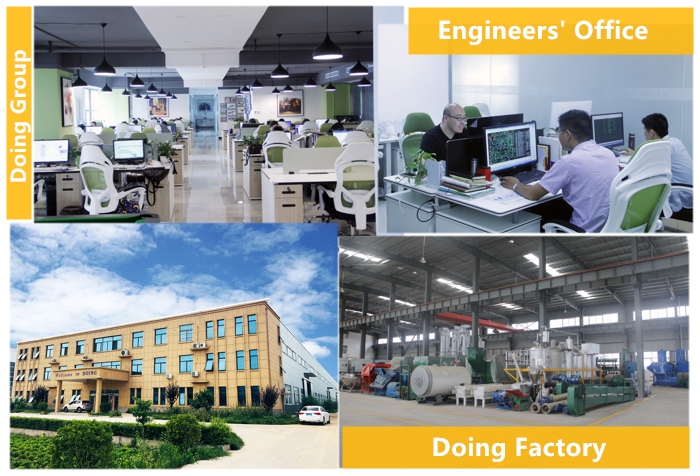 Doing Company and Doing Factory
3. Building office and warehouse in different countries
About this point, Henan Doing Company is the leader in this regard. Other Chinese suppliers have not do it yet. At present, we have successfully set up our first branch in Lagos, Nigeria, which provides more convenient for our African customers. Besides, we are planning to open more and more office and warehouse in more countries, so that clients can get better after-sales services and spare parts easily.
Do you also want to purchase cooking oil refinery machines from China? Don't hesitate, leave your special requirements to us, then we will arrange sales manager to contact with you immediately and give you personalized services accordingly.
Leave a message
If you wanna to get more details about What are the advantages to purchase cooking oil refinery machines from China?, you can send E-mail to sales@doingoilmachine.com. Or you can consult our professional engineers and specialized sales team by leaving a message in below form. We will contact you ASAP. You also can visit our factory in Henan, China.