What are the processing steps of making groundnut oil?
The processing steps of making groundnut oil is slightly different according to the customer's investment budget and production scale. Next, let's take a standard groundnut oil production line as an example to introduce the processing steps of peanut oil.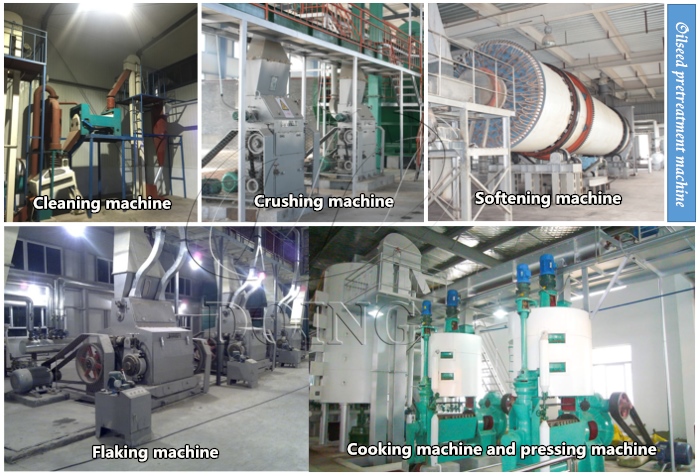 Groundnut oil processing machine
Groundnut oil processing process:
Groundnut → Cleaning → Shelling → Crushing → Flaking → Cooking → Pressing →Filtering → Crude groundnut oil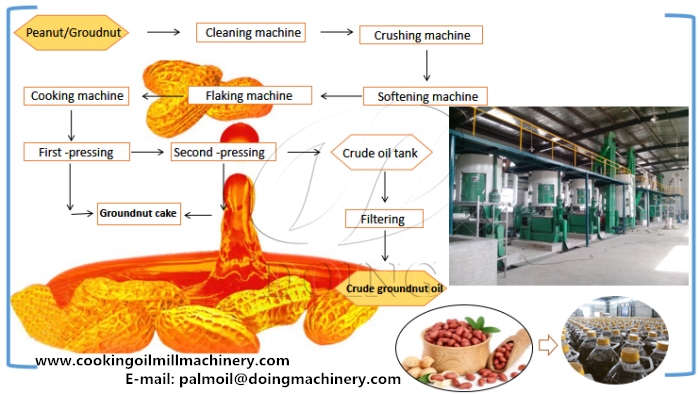 Groundnut oil processing process flow chart
Function of main equipment of groundnut oil processing machine:
Cleaning: This process adopts magnetic selector, cleaning sieve and destoner to remove the stones, metals, and other impurities from the groundnuts. The less of the impurities in the groundnuts after screening, the better of the quality of the groundnut oil.
Peanut Shelling: This process uses peanut sheller to remove the hard shell of peanuts and get the peanut kernels with red skin automatically. The shell content in kernel is less than 0.5%.
Crushing and Softening: Because the whole peanut is bigger, we need to use crushing machine to crush peanut into 4~6 pieces for better extraction effect. Then, using softening machine adjusts moisture and temperature of oil seeds. Softening is good for increasing plasticity of oil seeds. What's more, softening is an essential process for better flaking effect.
Flaking: We usually use the flaking machine to ground the groundnut kernels to flakiness, which break cell tissue of oil seeds and creates beneficial condition for cooking. Flaking also makes oil flows out smoothly when pressing or solvent extraction.
Cooking: Adjusting the condition of the groundnut flake pieces by using cooking machine. The moisture is about 5~7% and the temperature is about 110˚C to 115 ˚C.
Pressing: Using screw oil press machine to press the oil out. During this process, most groundnut oil can be extracted out.
Filtering: To get high quality groundnut oil we usually need to use the filter press machine to remove large organic impurities and get the pure crude groundnut oil.
Till this step, the whole groundnut oil pressing process is over. But if you want to get high quality groundnut oil, it is better to equip the groundnut oil mill plant with edible oil refining machine to remove all the useless and harmful impurities, color and odors.
Henan Glory Company did the cooking oil manufacturing equipment for over 10 years, our machines already exported more than 60 countries all over the world. If you want to build up your own cooking oil processing plant or start your own cooking oil processing business, please feel free to contact with us for more detailed information of peanut oil processing machine. We are pleased to offer you the most professional suggestions and services.
Leave a message
If you wanna to get more details about What are the processing steps of making groundnut oil?, you can send E-mail to sales@doingoilmachine.com. Or you can consult our professional engineers and specialized sales team by leaving a message in below form. We will contact you ASAP. You also can visit our factory in Henan, China.