How about starting a sunflower oil extraction plant in local Tanzania?
Sunflower oil business has a great untapped potential market in Tanzania. As Bank of Tanzania(BoT) research shows, Tanzania imports 6 percent of total edible oil requirement every year, despite having vast and promising production potential in the sunflower sub-sector. So it is proved that the edible oil production factories quantity cannot meet Tanzanian market needs. If you are ready to start a sunflower oil extraction plant in local Tanzania, congratulations you are grasping the promising market.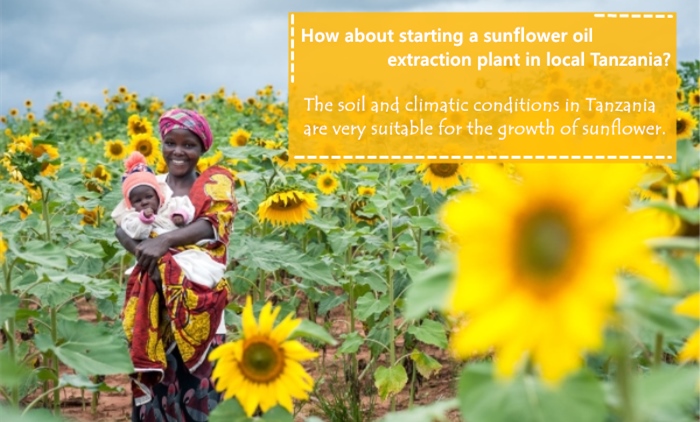 In Tanzania, it is rich for sunflower seeds
In Tanzania, to build a sunflower oil extraction plant, you don't need to worry about raw material issue. Because the soil and climatic conditions here are very suitable for the growth of a variety of oil crops. There grows many oil sunflower seeds which can be used to make vegetable oils, and has great demand for high quality vegetable oils.
Last year, after our Doing group's visited in Tanzania sunflower oil market, and attended of Dar es Salaam International Trade Fair in July, we found the main producing areas of the sunflower seeds are Shinyanga, Mwanza, Dodoma, Mtwara, Mbeya, Iringa, Ruvuma, Singida, Mara, Lindi, Tabora, Morogoro and Kilimanjaro.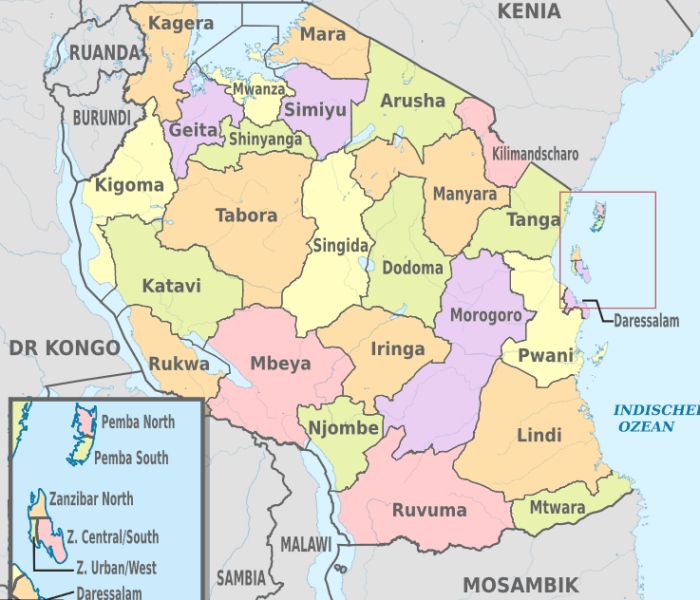 The map of Tanzania
Enough sunflower seeds means that the purchase price will be very low compared with other countries' raw material condition. That will help you save a large quantity of expenditure to buy raw material.
Besides raw material, you might also concern about finance support. Actually, Tanzanian economical environment is better than many other African countries. Loan or investors' supports period is not too long.
Not long ago, the owner of our Tanzania's sunflower oil extraction plant project, who bought pretreatment and refining processing line machine in advance. And then after his loan came again, he started to buy our 20tpd sunflower oil solvent extraction processing line machine. Besides, he also plans to build dewaxing project after getting profit. [Related reading: What is dewaxing process during vegetable oil refinery?]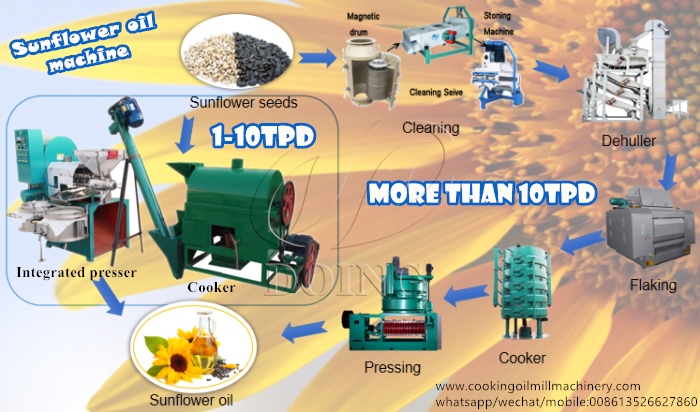 Different input capacities need different machines
That is also a great choice if you have no much finance to start all processing line together. You can start step by step like the above businessman. It's good for you to adjust finance investing and more space to research the market.
Have you got something after reading? Starting a sunflower oil extraction plant in local Tanzania is really a very good choice. If you have an idea, hurry up to start! Doing Mechanical Equipment Co.,ltd researched sunflower oil market for many years and has built many projects in Africa. We hope we can cooperate with you to give you best tailored-made sunflower oil processing plan.
Leave a message
If you wanna to get more details about How about starting a sunflower oil extraction plant in local Tanzania?, you can send E-mail to sales@doingoilmachine.com. Or you can consult our professional engineers and specialized sales team by leaving a message in below form. We will contact you ASAP. You also can visit our factory in Henan, China.