Peanut oil processing plant
Peanut oil processing plant

Peanut / groundnut
Peanut also called groundnut, is one kind of oilseed with high oil content and high nutritive value. The peanut kernel has 40%-51% oil content, which is also one of the most widely used oilseeds.
Because of the high oil content, two types of the processing technology can both used in peanut oil production: pressing method and solvent extraction method. Which method used depends on your requirement and the capacity you want.
Henan Doing Company supplies the peanut oil processing plant with the input capacity from 10tons/day to 2000tons/day.
The input capacity and the equipment we recommend are as follows:
The whole peanut oil processing factory includes pretreatment plant, solvent extraction plant and refinery plant.

Peanut oil manufacturing process flow chart
1) Peanut pretreatment and oil pressing workshop:
The processing steps of peanut pretreatment and oil pressing workshop: Shelling- separating shells and kernels- cleaning- crushing- flaking- cooking- oil pressing or pre-pressing.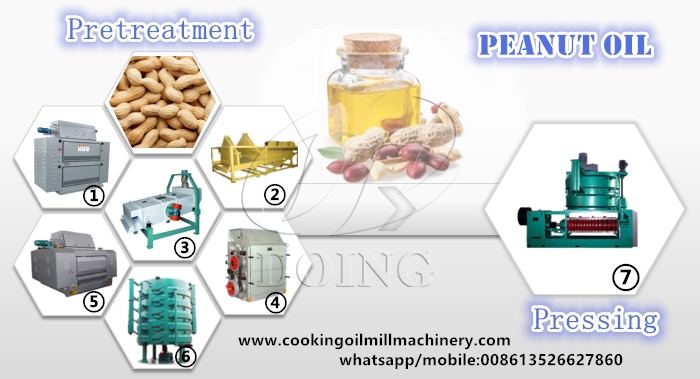 The machines used in peanut pretreatment and oil pressing workshop
2) Peanut oil solvent extraction workshop:
After the pre-treatment, the next step is solvent extraction, which is using the solvent to exact oil from the peanut cakes. By this kind of technology, the residual oil ratio in the oil meal is less than 1%.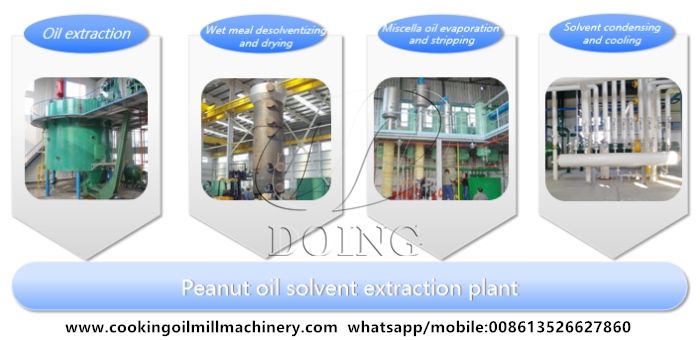 Peanut oil solvent extraction plant and working process flow chart
3) Peanut oil refinery plant:
After solvent extraction, there are some impurities in crude peanut oil. To get the higher quality final product oil, the crude peanut oil should be refined by oil refinery plant.
It includes four steps of Degumming-Deacidification-Decolorization-Deodorization.
And there are three types of the refinery equipment: batch type, semi-continuous type and full-continuous type.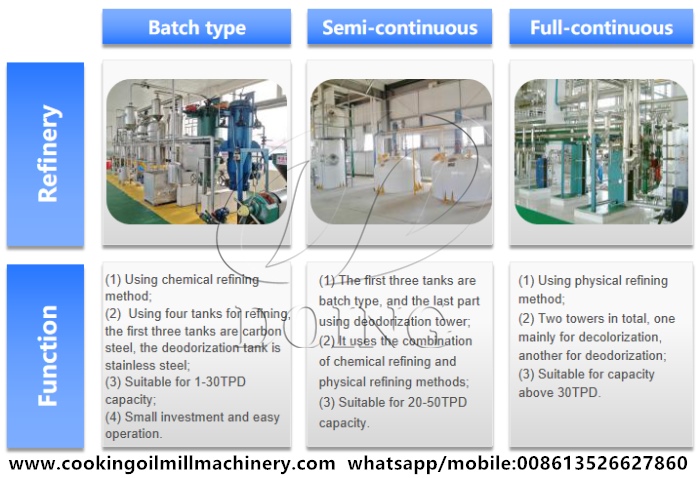 The three types of peanut oil refinery plant
If you are interested in building a peanut/groundnut oil processing plant, please contact us. We will supply the professional service for you.
Leave a message
If you wanna to get more details about High quality peanut oil processing machine, peanut oil refinery plant for sale with fractory price, you can send E-mail to sales@doingoilmachine.com. Or you can consult our professional engineers and specialized sales team by leaving a message in below form. We will contact you ASAP. You also can visit our factory in Henan, China.