Soybean oil processing plant
Soybean oil processing plant

Soybean
Soybean is one of the most common oil seeds around the world, which contains around 16-24% oil.
The oil content rate of soybean is not very high, so according to the amount of your raw materials that you want to process per day, the engineers of Henan Doing Company give some suggestions as below:
Processing Capacity
(Tons Per Day)
Equipment that we suggeste
Below 10tpd
Screw oil presser
10-20tpd
Screw oil presser/Small scale oil press line
Above 30tpd
Pretreatment&solvent extraction+refinery
Next, I will introduce the complete soybean oil pretreatment + soybean oil solvent extraction plant + soybean oil refinery plant one by one.
Soybean oil pretreatment and pre-pressing plant:
Pretreatment is to adjust the soybean into best state before pressing or solvent extraction, in order to increase oil output rate and improve oil and cake or meal quality.
The standard soybean pretreatment technology mainly includes cleaning, crushing, softening, flaking and cooking. Each steps has different functions. As the following picture shows: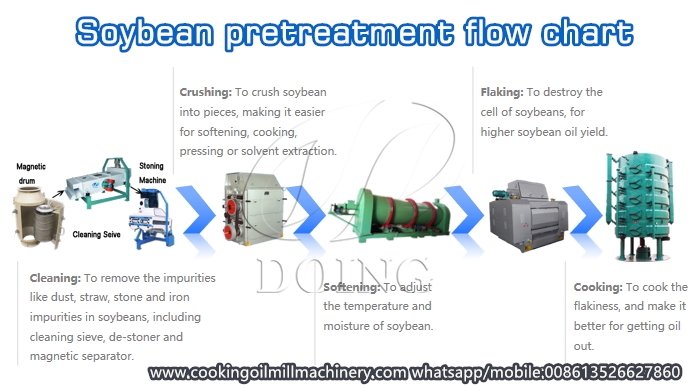 Soybean pretreatment equipment and working flow chart
After pretreatment, you can choose to press the soybean directly, using mechanical way to get crude soybean oil out, or send the cooked flakiness to solvent extraction plant for extracting more oil.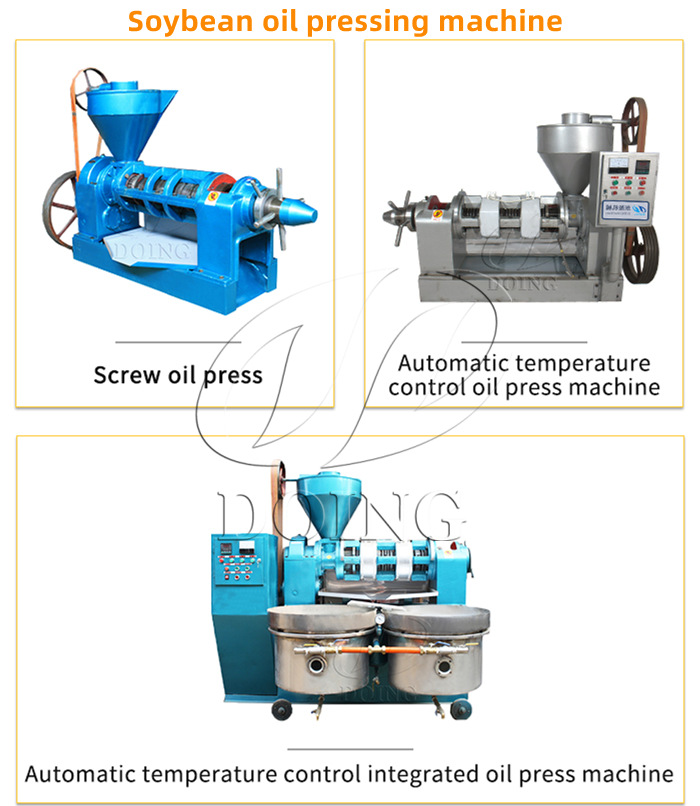 Types of soybean oil press machine
Soybean oil solvent extraction plant:
Solvent extraction is to use N-hexane to extract the oil from the processed oil seeds or cakes. The whole solvent extraction plant is anti-explosion considering of production safety. After solvent extraction, the oil residue is lower than 1%.
Since soybean oil that get from oil pressers is less, usually clients choose to add solvent extraction plant to get more soybean oil.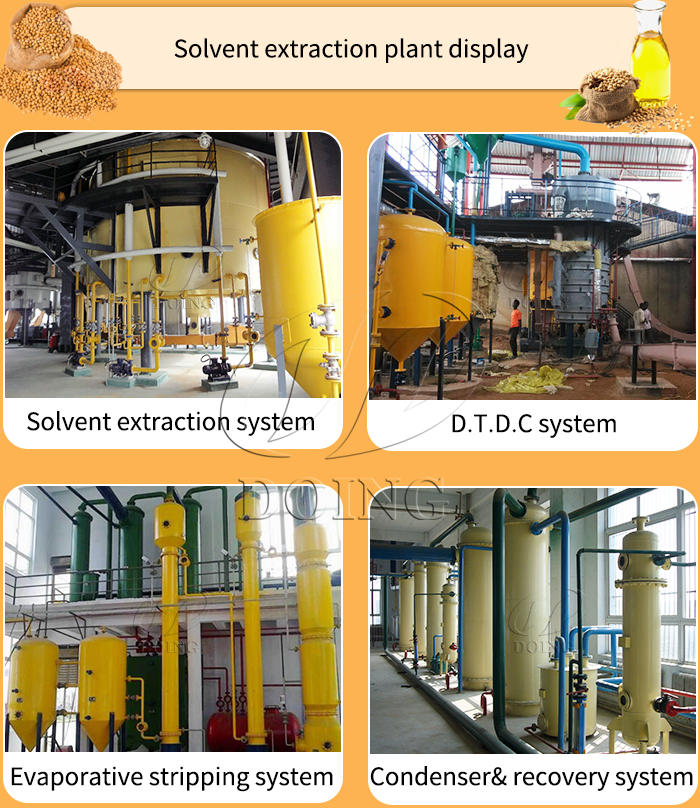 Soybean oil solvent extraction plant
The solvent extractor first extract the crude soybean oil, then get two parts: miscella oil and the mixture of meal and solvents.
Through D.T.D.C system and miscella oil evaporation system, the solvent was separated from oil and meal. At last, condensate the gas state solvent into liquid state, and recover it for recycling use.
Soybean oil refinery plant:
No matter after pressing or solvent extraction, the soybean oil you get is crude soybean oil. Only after refining can it be edible oil. Henan Doing Company's soybean oil refinery plant has three types according to different capacities and clients' requirements for final product oil.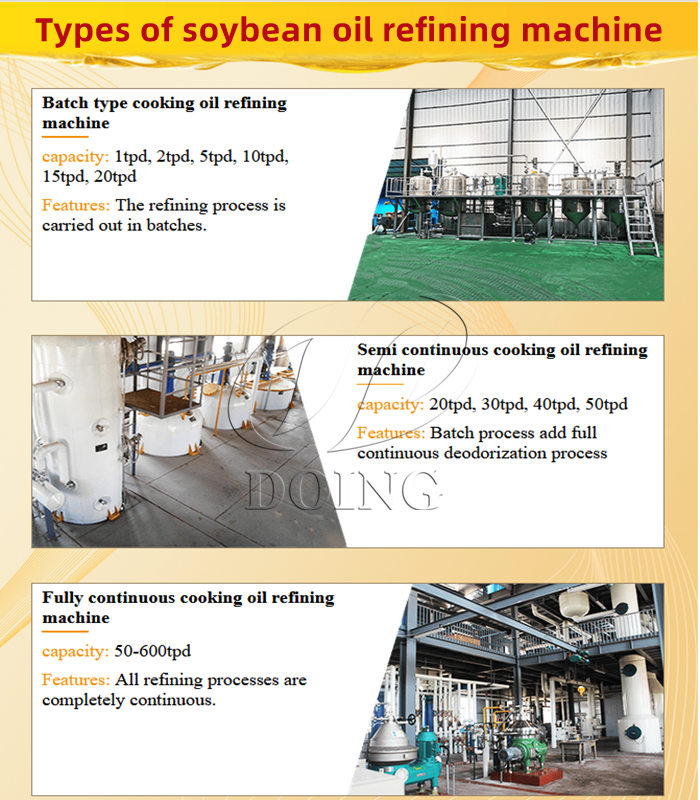 The three types of soybean oil refinery plant
Soybean oil refining process includes degumming, deacidification, decolorization/bleaching and deodorization. Through these process, the gums, acid, pigment and bad smell in the crude oil are all removed.
The detailed soybean oil processing plant project program and quotation, please contact DOING directly.
Leave a message
If you wanna to get more details about Product / Whole production line / Soybean oil processing plant, you can send E-mail to sales@doingoilmachine.com. Or you can consult our professional engineers and specialized sales team by leaving a message in below form. We will contact you ASAP. You also can visit our factory in Henan, China.