Sunflower oil processing plant
Sunflower oil processing plant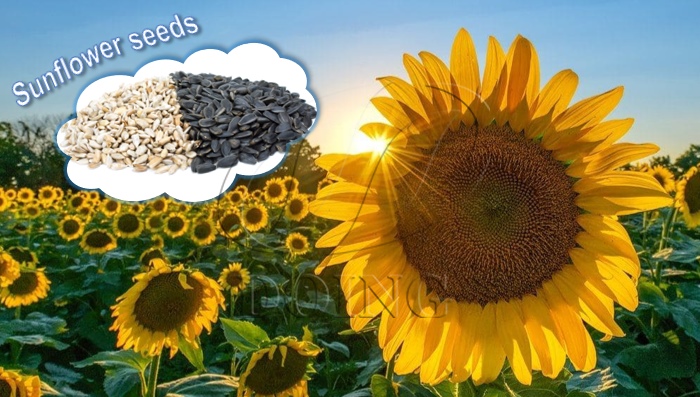 Sunflower and sunflower seeds(with shell and without shell)
Sunflower seeds is a common oilseeds, in which there are 45-54% oil content. Sunflower oil, with golden color, clear and transparent, fragrance oil, is a kind of popular edible oil among people.
Sunflower oil contains a lot of linoleic acid and other essential unsaturated fatty acids, can promote the regeneration and growth of human cells to protect skin health, and reduce the deposition of cholesterol in the blood. It is an advanced nutritional oil.
While how to make sunflower oil using sunflower oil mill machinery? Here I will introduce the main process of sunflower oil production process.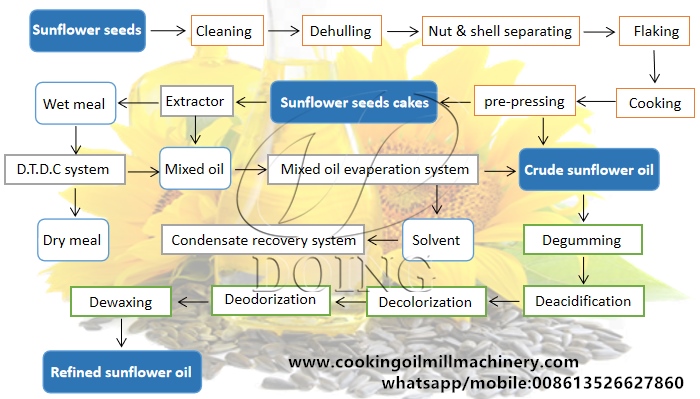 Sunflower oil production process flow chart
1. Sunflower seeds pretreatment & pre-pressing section
Sunflower seeds is a kind of high oil content oilseed, so the pre-pressing is necessary for making sunflower oil. Through a series of equipment processing, the sunflower seeds are adjusted in the best condition, and then sent into sunflower oil pre-pressing machine to extract part of sunflower oil.
The pretreatment machines are as following picture shows: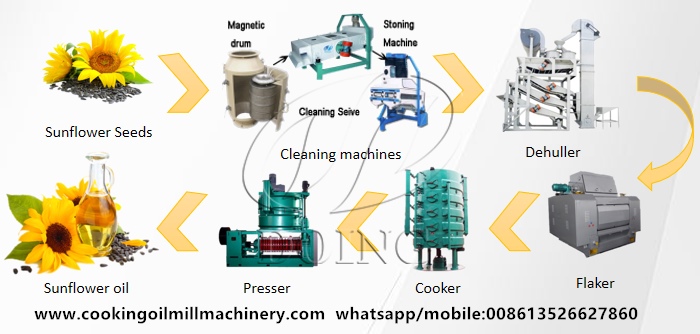 The sunflower seeds pretreatment machines and pre-pressing machine
2. Sunflower oil solvent extraction section
Sunflower oil solvent extraction plant utilizes for extracting the maximum oil out from the sunflower seeds cakes. The final oil residue can be less than 1%. It is usually suitable for large capacity sunflower oil processing plant above 20tpd.

The processing flow chart of sunflower oil solvent extraction plant
3. Sunflower oil refining section:
Sunflower oil refinery plant is to remove harmful impuries and useless substance, such as protein, phospholipid, pigment, moisture, wax and other impurities. And then the refined sunflower oil can reach the standard of food and storage.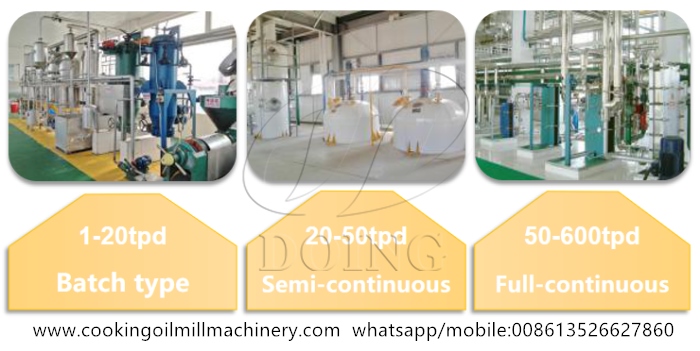 Three types of sunflower oil refinery plant
(1) Degumming & Deacidification section: Use P-acid to remove gums, alkali to react with acid and then water to rinse.
(2) Decoloring/bleaching section: To remove pigments, get bleaching oils and dehydrated oil.
(3) Deodorizing section: To remove the odor components in oil.
(4) Dewaxing section: To remove the wax in the sunflower oil, in order to get the higher quality cooking oil.
Henan Doing Company is a professional manufacturer of cooking oil mill machinery. We have been in cooking oil machine manufacturing industry for 40 years. For sunflower oil processing, our engineers has some advice according to the sunflower seeds amount you want to process per day.
| | |
| --- | --- |
| 1-10tpd | Screw sunflower oil press machine |
| 10-20tpd | It is better to start sunflower oil mechanical press processing line. |
| Above 20tpd | You can choose mechanical press processing line or solvent extraction processing line. |
We are looking forward to cooperating with you! Welcome to contact us. Our engineers will service you.
Leave a message
If you wanna to get more details about High quality sunflower seeds oil processing machine, sunflower oil refinery plant for sale with fractory price, you can send E-mail to sales@doingoilmachine.com. Or you can consult our professional engineers and specialized sales team by leaving a message in below form. We will contact you ASAP. You also can visit our factory in Henan, China.