How to extract cooking oil from corn?
In fact, corn oil is extracted from corn germ, which is a small part of corn. Only the corn germ contains oil, and other part is corn starch. So getting enough corn germ is the first step for you to produce corn germ oil. Usually, you can get corn germ from corn starch processing plant.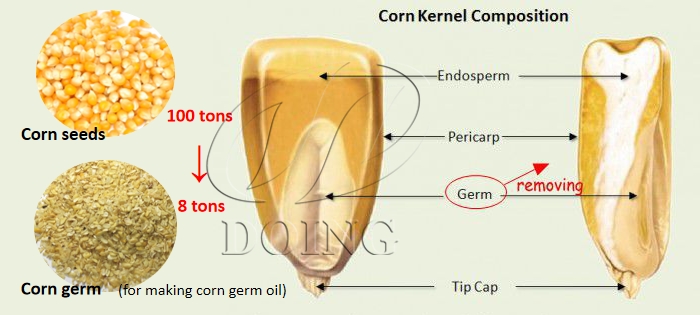 The composition of corn kernel
After watching the above picture, you can understand which part is corn germ. So if you want to start corn germ oil processing plant, you must have enough corn germ, not corn. Because 100 tons corn just could produce 8 tons corn germ, and the oil content of corn germ is 30%-48%. In corn germ oil production industry, there are two kinds of method often used to extract corn oil from corn germ. One is pressing method, the other is solvent extraction method.
Whichever method you choose to use, the corn germ pretreatment section is a necessary part. It is to processing the corn germ by a series of equipment, so as to adjust the corn germ into best condition to press or solvent extract.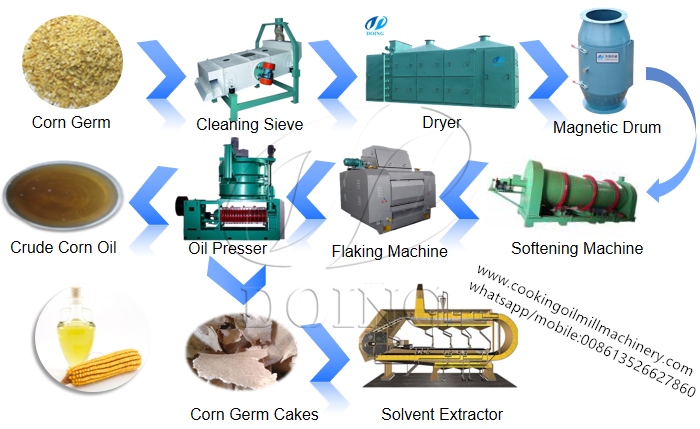 Corn oil extraction process flow chart
After pretreatment, corn germ could be pressed by corn germ oil press machine or extracted in corn germ oil solvent extraction plant. The best advantage of corn germ oil solvent extraction plant is that the residual oil can be less than 1%.
Henan Doing Company not only can provide 10TPD to 6000TPD corn germ oil processing plant turn-key service, but also 1-600tpd crude corn oil refinery plant turn-key service. The specific corn oil extraction process and crude corn oil refining process can be designed by engineers of Henan Doing Company, according to your needs. Look forward to cooperating with you.
Leave a message
If you wanna to get more details about How to extract cooking oil from corn?, you can send E-mail to sales@doingoilmachine.com. Or you can consult our professional engineers and specialized sales team by leaving a message in below form. We will contact you ASAP. You also can visit our factory in Henan, China.