Can I use one oil press machine to process sunflower seeds, peanut and soybean?
Sunflower seeds, peanuts and soybeans are three different oil seeds with different characteristics. If you want to use an oil press machine to process these three oil seeds and ensure the oil output rate, then this oil press machine must have certain technical support and innovation. And Henan Glory company's new type oil press machine just supports the multiple-oil seeds processing.
The multifunctional oil press machine of Henan Glory is the latest type of oil presser developed by our professional and experienced engineer team after many trials and summaries.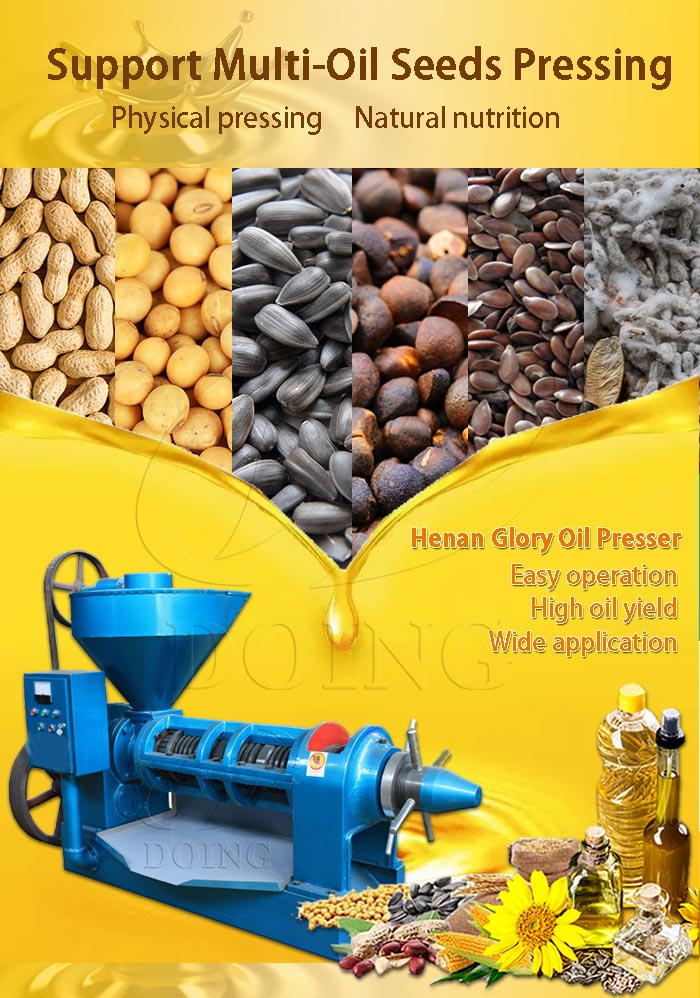 Our oil press machine
At present, our new type multifunctional oil press machines have been exported to more than 60 countries and regions and have been well received by many customers. Comprehensively speaking, the new type multifunctional oil press machines is so popular because it has the following advantages:
1. High oil output rate: high pressure to press oil, which improves the oil output rate of the oil.
2. High productivity: the feeding is smooth, the cake cone can be adjusted according to the demand, which greatly improves the production capacity and efficiency.
3. Multiple function: wide application range, can squeeze different oil seeds such as peanut, soybean, rapeseed, sunflower seed, etc.
4. Durable: the core part is made of high-quality steel, which is safe and reliable, and has a long service life.
5. Cost-effective: The oil press machine investment cost is reasonable, small footprint, easy to operate and maintain, and save manpower and material resources.
If you want to obtain more benefits, you can adjust the edible oil processing machine configuration to improve oil output rate, such as adding a cook to adjust the raw materials to the best state so that the oil pressing will be smoother.
If you need to know about the related information of this new type multifunctional oil press machine and other edible oil processing machines, you can contact Henan Glory company at any time. Our dedicated sales manager and engineer team will customize the best edible oil processing solutions and machines for you!
Leave a message
If you wanna to get more details about Can I use one oil press machine to process sunflower seeds, peanut and soybean?, you can send E-mail to sales@doingoilmachine.com. Or you can consult our professional engineers and specialized sales team by leaving a message in below form. We will contact you ASAP. You also can visit our factory in Henan, China.