News
Indonesian customer successfully purchased 500kg/h diesel palm oil press from Henan Glory Company
On August 1st, 2022, customers from Indonesia ordered a 500kg/h diesel palm oil press from Henan Glory Company.
The customer has a factory in Indonesia and learned that the demand for palm oil in the international market is increasing recently, and the price of palm oil is rising. So he wants to buy small scale palm oil press to produce palm oil. Because it is the first time to try to do palm oil production business, he is more concerned about the quality and operability of the equipment. He also said that if the quality of the equipment is excellent, he will buy more equipment in the future.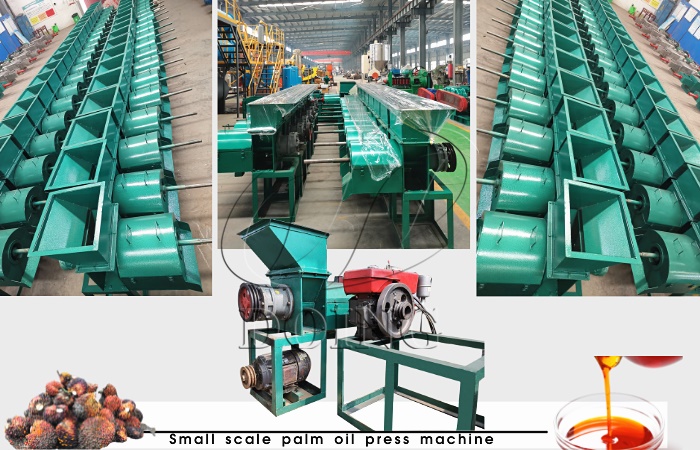 Small scale diesel palm oil press in Henan Glory Company's factory
In order to meet the needs of customers, we recommend our 500kg/h diesel palm oil press to customers. Our equipment is introduced from the aspects of material, design process, details and residual oil rate.
First of all, in terms of material: we choose 2Cr13 as the production material. This material is a high-strength wear-resistant alloy steel, and it is made by the integrated casting process. Its service life is up to 1000 hours. The conventional oil press uses carbon steel to squeeze the screw, with a service life of about one month. Our equipment can be used for up to half a year under normal maintenance. Our professional engineers came to the conclusion after a long time of repeated tests.
Design: the pressure of our oil press comes from the simultaneous action of the front screw press and the rear reducer to produce extrusion and achieve the best pressing effect.
Details: our screw press will be polished before leaving the factory to ensure the smoothness of the screw press, prevent material blockage because the screw press is too rough, and ensure the smoothness and efficiency of the machine operation to a certain extent. In addition, we have two power systems, diesel and electric, to meet the power needs of different regions.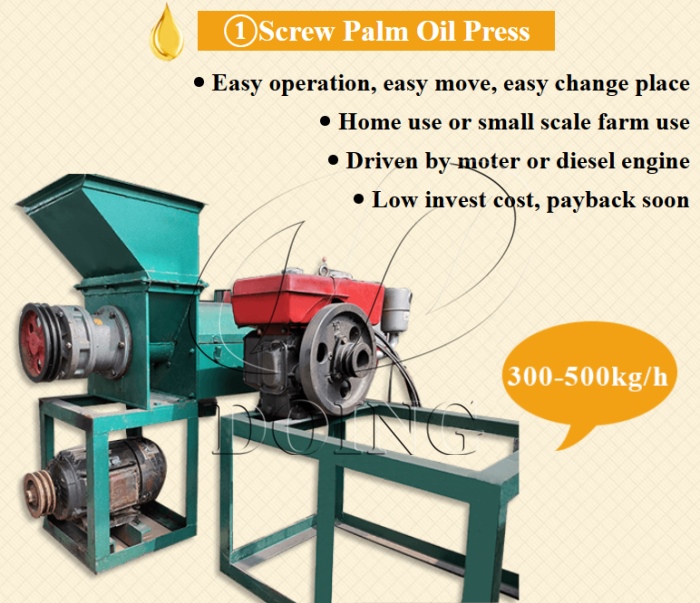 Features of 500kg/h diesel palm oil press
In terms of residual oil rate: our machine has been tested for many times, but the residual oil rate is low, and the integrity of the nuclear is guaranteed, because once the nuclear is damaged, palm kernel oil may be produced. Palm oil and palm kernel oil are completely different oils, which are called "gutter oil" after being mixed at will, so the integrity of the nuclear is very important to ensure the quality of the oil.
Indonesia is a major producer of palm oil, and its production technology has been relatively mature, but customers are still willing to purchase palm oil production equipment from our company, which is enough to prove that the quality, price and service of our products have been recognized by customers, and our equipment has been continuously praised in the process of communication.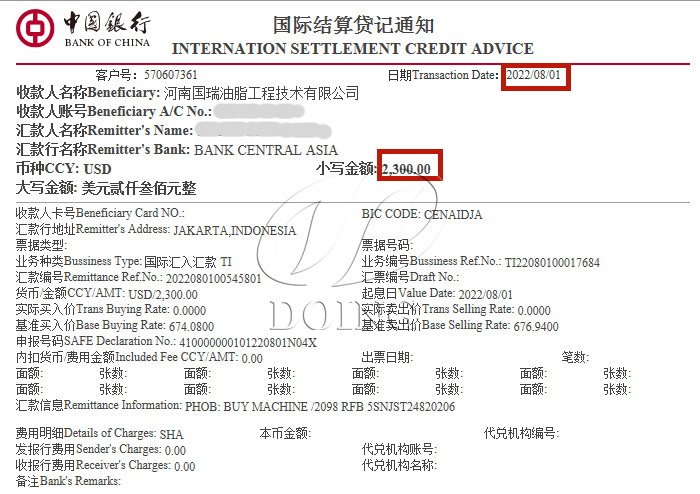 500kg/h diesel palm oil press bank slip
In addition to palm oil process machine, we are also a professional manufacturer of other types of cooking oil press machine, such as peanut oil, soybean oil, rapeseed oil, cottonseed oil, etc. we have a professional team of engineers who can provide one-to-one customized services to meet your needs in all aspects. If you need anything, please feel free to contact us.
Leave a message
If you wanna to get more details about Indonesian customer successfully purchased 500kg/h diesel palm oil press from Henan Glory Company, you can send E-mail to sales@doingoilmachine.com. Or you can consult our professional engineers and specialized sales team by leaving a message in below form. We will contact you ASAP. You also can visit our factory in Henan, China.